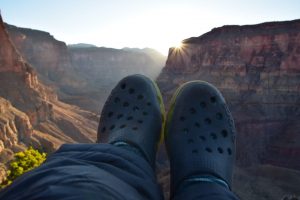 It is time to bring up the very real and pressing issue of the lack of Crocs in the backcountry. I ask, as a concerned outdoor woman, where have they gone? I realize that some outdoor industries will not allow traditional crocs in the backcountry due to the shoe having holes, and a loose hold around the foot while doing river crossings. Yet, I can only assume they do not know about the large variety of Crocs available! Shoes like the Swiftwater Cross-Strap, Offroad Sport Clog, LiteRide Lace, or LiteRide Pacer are perfect camp shoes after a long day backpacking, crushing at the craig, coming off the whitewater, coming down from a backcountry ski (Blitzen clogs or the Shearling Boot are good for this), or crossing a river while hiking. There are good Croc options for students in professional industries, and for an everyday outdoorsmen!
Crocs dry quickly, protect your feet, are light, have comfort soles, can be adjusted, have a backstrap (I call it the adventure strap), float, are nearly indestructible (my dog chews on them daily), and, contrary to common belief, are very fashionable coming in a wide variety of designs and colors. These shoes are completely functional for the outdoors! Trust me, I can vouch for my Crocs…
In a last ditch effort to my fellow outdoor folk, I have made guidelines for "How to Croc in the Backcountry".
To reduce sweaty feet on hot hiking days,

wear socks with the Crocs

. As you put on the socks and slip back into the Crocs, the people left around you are your true friends. Yes, Crocs hold the power to help distinguish true friends.

Use the adventure strap

/ankle strap. The adventure strap is an important tool when facing tough sections of a hike. All you have to do is move the strap from above your foot, to behind your ankle. This allows for further stability in the Croc.

Crossing a stream

is now a dream! Tighten your Croc, or put the adventure strap on, and cross the stream using whatever safety method is appropriate. On the other side, set the crocs in the sun while changing back into socks and boots. The Crocs will be able to dry quickly and be near ready, or ready to pack once you are back in your boots.

So easy.

Since the Crocs are so light, you can easily store them in an accessible area when backpacking and keep them much cleaner than shoes with cloth fabric. The weight will be minimal, and when you get to camp the shoes will be breathable, comfortable, and easy to get on (no straps to worry about going between your toes or by blisters).

Know your limits.

Wearing Crocs may make you feel limitless, so remember, they are just a shoe. Still use good judgement calls to ensure safety and fun in your Crocs.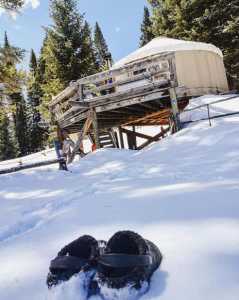 Resources: https://www.crocs.com/c/women/footwear/clogs