I have had a request to write about seasons and the sports that I have weathered, dialed, and grown to truly love throughout the year. I love living in an area of the world where I can experience all four seasons. For me it is extremely refreshing to embrace and be fully in each season while it is present. Many may disagree with me, but I really do appreciate sub-zero temps in the middle of Wyoming because it makes the mildness of spring and heat of the summer all the more appreciated.
I believe that we humans are meant to endure. If we did not endure, we would simply become spoiled and aggravated that the control we thought we had never actually existed and then we are just left with meaningless resentment for something we really can't control… Weather, seasons and life. Just as isolated seasons or highly successful seasons ebb and flow, I see the physical changing seasons as a beautiful symbol of hope and anticipation for where we are everyday… I could talk about this subject for a long time… BUT- Let us save that topic for another entry. As the seasons change, the anticipation of swapping sports also transitions. Some spend their year in constant training for one specific sport. Some simply take on training for multiple sports in rotation as one season comes to a close, perhaps that closing seasons sport was helping prepare for the up coming seasons sport and so on. I like to participate in activities that have the latter flow.
MY sports!
Downhill Skiing/ Mogul/Telemark: Winter, Spring
By far my number one favorite sport! There is something about gliding across creation and having a deafening silence pierce your ears as thick flakes fall silently to the ground at the top of a run. When you begin your descent, NOTHING beats a good deep carve and company on a chairlift is some of the best company I have ever had the pleasure of being present for. This sport is my Nitch and I am thankful that God uses this sport to bring my heart alive and the delight he gains from how much joy it brings me is mind-blowing.
I currently really suck at this sport but it makes be extremely excited for when the season rolls back around because it is another opportunity to progress.
Cross Country Skiing:Winter, Spring
I have enjoyed this sport more in recent years and it helps me with continual endurance training that transfers into Spring and summer!
Running: Winter, Spring, Summer, Fall
I don't love running on a hamster wheel (treadmill) or running in sub-zero temps on slick surfaces, However it is worth it to me because it keeps my endorphins up in the low light and lack of Vitamin D this time of year.
FUN FACT: Majority of the state of Wyoming is Vitamin D deficient! People take your vitamins!
Continually training and mixing it up in my running I have realized is very important on improving. If you literally run the same mileage every day at the same pace, eventually your body is going to hate you and you really will not progress in anything. Spring means race season is upon us and throughout the winter into spring, it is crucial to get those fast twitch muscles sharpened and stoked. I have only realized the potential in excelling through speed training recently. Game changer!
Rock Climbing: Spring, Summer, Fall
In some places in Wyoming, like Sinks Canyon, you can actually climb year around. Spring is for waking up Winter arms and getting back up to where you were last Fall. My year-round time in the gym usually helps in this transition (so I tell myself). I love climbing. Something about getting vertical distance and pushing yourself in, learning to read the rock, but also figure out and strengthen technique and sequencing. It's so much fun!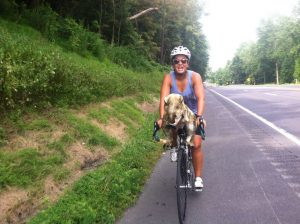 Road Cycling: Late Spring, Summer, Fall
The roads in winter in Wyoming and even sometimes into the Spring can be rather dangerous and unmaintained. The first ride of the season is exhilarating! Especially because you feel the different in gaining your bearings for NOT being on your road bike for a season and a half. It's like riding a bike, but it's also like learning to ride a bike again.

Mountain Biking: Spring, Summer, Fall
When the ground finally drys up a bit I get really pumped on being able to get back into any saddle! My time during the winter skiing often helps in transitioning to Mountain biking because the flow and techniques are very much the same. So between this sport and Skiing, I am able to cross train for these sports year around and I love it. Rolling hills, pin turns and technical trails in the trees via single track is probably my number 2 sport. Can't get enough!

Backpacking: Summer, Fall
This is actually a job for me in the summer but it doesn't mean I can't include it. There is something extremely freeing about putting everything you NEED on your back and wandering through the wilderness. Sometimes I think backpacking is a funny concept because it's literally just people wandering around with stuff on their backs for no reason other than they love it and choose to do it for fun. Running and year-round gym time helps tremendously with being able to walk alongside students on a course in the backcountry and focus on them and not on my own body.

Geocaching: Spring, Summer, Fall
This is a hobby I have taken up in recent years after discovering it with friends in California. Treasure hunts and the anticipation of finding some little thing based on coordinates is extremely satisfying. And also funny! Because you can be searching for something and people will be looking at you like your crazy for pacing and wandering in a field or just off a trail. I always find that it is good to announce what it is you are doing as to not creep people out. Just this month I found THE cutest little box with a log to sign! I don't love hiking but I love hiking to find these buggers.

Sleeping/Resting: Winter, Spring, Summer, Fall
I really love snuggling up and simply resting my body because in the 3 other seasons to follow, I find that Winter tends to be my least activity filled season. I try to find time to rest in every season. It's the only way you can continue to persevere through the weather and also through life's seasons. Pausing, reflecting, and resting in that reflection is EXTREMELY beneficial and a very healthy thing to pursue. In the American Culture especially it is harder and harder to do this because of feeling judged for being lazy. Self care people, self-care.
Having a hard time finding what you enjoy?
Keep trying new things! It's very rare to wake up one day and go out and be in a routine or a better word would be rhythmic in the activities you enjoy. Perhaps you don't even know what you enjoy. THIS IS OK! Half the fun is discovering what you do enjoy. If you are looking for ways to get better at your favorite activities year around, do some research and see how you can cross train or achieve staying active in your nitch sport(s) year around! Don't be so hard on yourself when you have a hard or not so seemingly awesome day! You're out there! You're learning and you are improving!
Even though I have been downhill skiing for nearly 30 years I still have rubbish days for sure. But that's the beauty of it. I am continually humbled by the sports I practice and am awed in the improvements I have seen along the way. I am awed in the connections and friendship I have encountered through them. I am thankful that God created me with this passion for outdoors and for the excitement that I get from participating! I am continually humbled and blown away that it brings Him great joy to see the joy I experience from these activities in His creation. That He created these places with me in mind! That He created with YOU in mind, knowing the mountains, lakes, rivers, meadows, single-track, waves, and snow would bring great joy to our lives.
MIND BLOWN!
Keep Adventuring.