Experiential Education at Its Finest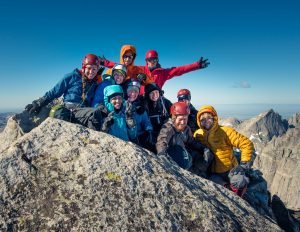 The Rocky Mountain Outdoor Semester is SROM's 96-day outdoor education and wilderness leadership course. This robust learning experience takes place in the context of God's creation while you earn academic credit from accredited colleges, universities and seminaries.
Your "classroom" will include some of God's most beautiful creation in Wyoming, Nevada, Arizona and Utah.
The course is designed to be a transformational college semester or Gap semester. It includes 5 programming sections that focus on integrating and developing the core course components of every SROM expedition:
Spiritual transformation
Authentic community
Leadership development
Character formation
Skill acquisition
The Rocky Mountain Outdoor Semester will focus on developing your heart, mind and body using the wilderness and wilderness programming. Activities like backpacking and rock climbing provide hands-on opportunities for development in discipleship, leadership and academics…and work towards your professional degree.
SROM has partnered with Family of Faith Christian University (FFCU) and All Nations College to create the new BA of Church Ministry program with a Wilderness Emphasis. You can earn 21 credit hours for the entire Rocky Mountain semester with SROM and FFCU.
Financial aid and scholarship opportunities are available through Family of Faith Christian University.
Contact registrar@srom.org for more information about academic credit and financial assistance.
But don't wait-Registration for the fall 2018 semester closes May 15!