Help others connect deeply with God and one another in your area.
Do you know the power of escaping distractions and reconnecting with God in His creation?
Want to help others in your area experience the same thing?
We understand many people feel intimidated by the thought of backpacking for a week or longer. Thus the Pocket Wilderness Weekend was born – a mini escape into God's creation to refresh, renew, and connect deeply with God and one another.
This training is for people who would like to lead these basecamp, mini retreats in their own area. We will teach you how to facilitate discussions, build authentic community, and teach basic camping skills to those who may have never done it before. You will also learn how to build a program from logistics, sign-ups, meal planning, and much more.
By doing the training you will have the opportunity to become a part of the SROM Affiliate Program which seeks to connect Pocket Wilderness Guides to resources and guidance from SROM and other Pocket Wilderness Guides around the world.
**This course has two parts: Remote Learning and in person field experience.
DETAILS
Course details at a glance.
4 Monthly Meetings via Zoom:
Online May-August
Starting May 2, future classes TBD*
In Person:
September 12 – 16, 2024
Arrive: 8 am | Depart: 8 pm
*Dates are tentative and subject to change
Essential Eligibility
Skill Level:
Beginner Friendly
There are no prerequisites for this course except a desire to learn and grow. We will teach you the skills of course development, group dynamics, and group facilitation. This course is designed to equip you to guide others on short weekend trips in which to grow closer to Jesus. 
Physical Ability:
Carry a day-hiking backpack for 2-3 mile day hikes
Hike and camp at elevations of 8,000 ft. and up
Long days, often up at 6 am and in bed at 9 pm
We understand the physical requirements may be overwhelming, but we find most people can train and do great. We provide a training plan to help you be physically prepared for your trip so you can succeed and have the most fun.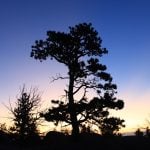 TALK TO AN ADVENTURE SPECIALIST
ItInerary
An overview of what to expect on course.
Section 1 // Virtual Campfire Discussions
This portion of your course happens from the comfort of your home. The initial virtual campfire will be to meet and greet of your course leaders and fellow participants. Then you will continue to meet about once a month to discuss a reading and how it applies to wilderness ministry. Each virtual campfire meeting will last about 2 hours.
Section 2 // Field Experience: ARRIVAL
You will meet your leaders and team at SROM headquarters in Laramie, WY. The day will start with an orientation as you get to know your leaders and team members in person. We will issue any gear you need and lead you in some classroom teachings before heading out to basecamp. 
Section 2 // Base camping
With packs packed, you'll head out to a world-class venue, Vedauwoo Recreation Area. Here you will start your time in community, learning to exercise trust and vulnerability. 
Each day will have a spiritual theme with family time in the evenings that often includes worship, teaching and discussion. 
A Typical Day:
(times are estimates and will vary)
6:00 AM – Breakfast: cook breakfast with your cook group
8:30 AM: Gear packed for the day.
Noon – Lunch: Eat while out
3:30 PM: Head back to base camp
4:00 PM: Time Alone with God (TAG), typically 1hr, and/or teaching.
5:00 PM – Dinner: Make dinner with your cook group
7:00 PM: Family Time – debrief day, worship, and devotional/teaching
9:00 PM: Bedtime
Section 4 // Departure
Returning to the SROM base, you will de-issue group gear and rented gear before showering and debriefing with one of our staff members. Officially closing the course, you will be awarded with a course completion certificate. Afterwards, teams often go out for a celebratory dinner* at a local restaurant.
*This meal is not covered by SROM as it is outside of the official course. However, it is a good thing to plan for.
PHOTOS & VIDEO
Get a glimpse into the experience.
Testimonies of Transformation
Hear what others experienced.
"This course exceeded my expectations. It was a unique opportunity format for connecting deeply with others"
– Jason
"SROM is excellent and I would definitely recommend a course to friends. I felt like I was led by God-honoring, safe, healthy leaders and that is so valuable. Also, the content of the course is so powerful." – Shelley
Early
Applications before March 1st
The regular price of $950 per person
Early Bird
Applications before January 1st
The regular price of $950 per person
Regular
Applications March 1st - 60 days prior
Bring a friend and you'll both save $50!
What if SROM has to cancel the course?
You will receive a full refund if we need to cancel the course.
Should I get travel insurance?
Yes, we highly recommend getting travel insurance and checking to see if it covers Covid-19 or not.
Not only is travel insurance helpful for a potential change in plans or a course closure, some travel insurance plans will also cover if you needed to be evacuated from a course for a medical emergency. 
QUESTIONS?
We would be happy to answer any questions you have. Ask away below or call (307) 755-0642.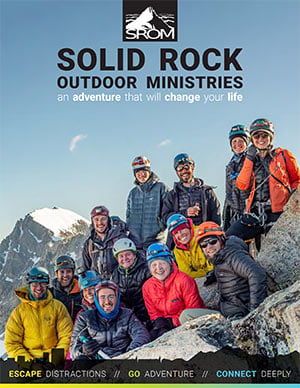 What is Wilderness Ministry?
Get a FREE mailed catalog to learn about our philosophy of wilderness ministry that we have developed over 40 years. Topics include:
Why Wilderness?
Creation Deficit Disorder
The Reward of Risk
Leadership Development
Philosophy of Education
and much more!
It won't be easy, but it will be worth it.