Become a leader in caring for our planet.
Passionate about saving the outdoors for future generations?
Want to effectively teach others to do the same?
We all have our different reasons but one we can all agree on is that the outdoors is worth taking care of so that many others and those after us can enjoy them too. The Leave No Trace Level 2 Instructor course is for those that are passionate about just that and want to hone their skills in teaching others to do the same by running Leave No Trace Level 1 Instructor courses and Leave No Trace Skills courses.
Although SROM is a faith-based, Christian organization, we promise we will not preach to you. There will be a time at the beginning of the course where each participant will share a little of their own "why" behind valuing the outdoors. At this time, your instructors will do one talk on why at SROM and as Christians, we believe it is important to take good care of the outdoors. You will always be welcome to ask our instructors more about our particular beliefs. However, no more will be shared unless asked and everything else taught on course will be strictly from the Leave No Trace Level 2 Instructor curriculum. Are you ready to become a leader in caring for our planet?
DETAILS
Course details at a glance.
October 3 – 6, 2024
Arrive: 8 am | Depart: 5 pm
LOCATION(S)
Zion National Park
Academic Credit
3 Credits
Essential Eligibility
Skill Level:
 Beginner Friendly
There are no prerequisites for this course except a desire to learn and grow. We will teach you the Leave No Trace Curriculum and some tips and tricks on how to teach it in the areas where you are working, guiding, or teaching.
Physical Ability:
Carry a day pack with essentials, hiking 4-8 miles a day
Hike on uneven terrain, in water and on slick rock, at elevations of 3,500 ft. and up
Long days, often up at 6am and in bed at 9pm
We understand the physical requirements may seem overwhelming, but we find most people with basic physical fitness do great.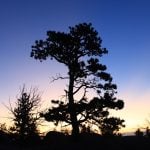 TALK TO AN ADVENTURE SPECIALIST
Itinerary
An overview of what to expect on course.
ARRIVAL
You will meet your leaders and team at the Zion National Park Visitor Center on your first day. The day will start with a brief orientation as you get to know your leaders and team members. We will issue any materials you need for the course and lead you in some intro Leave No Trace activities.
Day Hikes
Each day you and your team will set out among the iconic canyons of Zion National Park. The day will begin together by driving to one of the many amazing trails within the park, and along the hike each person will do a short teaching about one of the 7 Leave No Trace Principles.
There, you will experience many opportunities to see how to facilitate conversations with other people on the trails about the importance of Leave No Trace, as well as discuss as a group tips and tricks to engage people in a way to create a positive impact.
A Typical Day:
(times are estimates and will vary)
6:00 AM – Breakfast: cook breakfast with your group
8:30 AM: Pack-up and head to the trail, teaching topics on the trail
Noon – Lunch: Enjoy lunch at a scenic spot on the trail, teaching topics on the trail
3:00 PM: Return to Campsites
4:00 PM: Relax time
5:00 PM – Dinner: Make a tasty dinner with your group
7:00 PM: Family Time – debrief day, teaching topics & lessons
9:00 PM: Bedtime
Departure
Returning to the Zion NP Visitor Center, you will debrief with the team and fill out a feedback survey.  Officially closing the course, you will be awarded with a course completion certificate. Afterwards, you are free to leave or go out for a celebratory dinner* at a local restaurant.
*This meal is not covered by SROM as it is outside of the official course.
PHOTOS & VIDEO
Get a glimpse into the experience.
Testimonies
Hear what others experienced.
Everyone was very engaging, respectful, and supportive. Although Zion is a very busy park, it provided a perfect teachable opportunity for many of the principles. Being in the backcountry is great and always fun! But from a learning perspective, the busy-ness of Zion is a great classroom.
And Christian or not, I would recommend the course with SROM because of the quality people and the instructors creating an environment that fostered positive, constructive feedback. I never felt uncomfortable or put on the spot regarding my beliefs.
Contact us to apply
This course begins soon, please contact Admissions at 307-314-2070 to see if you can still join for 2023.
Bring a friend and you'll both save $50!
It won't be easy, but it will be worth it.