SROM Staff Vehicle Training Course
Each member of SROM's staff is required to take and pass our Vehicle Training Course. It consists of reading the topics and documents below and the additional links to outside websites.
You will be taking an online test prior to the scheduled day of the Practical portion of your training and must receive at least an 80% or greater. If you receive a lower score, you may re-take the test on the day of the practicals prior to starting the driving section.
Summer Support Staff/Instructors
June 6th, 2022 (All Day)
To RSVP for driving training, please email hr@srom.org to attend the training by SROM Vehicle Training Instructors.
If you are an instructor and have previously taken SROM's Vehicle Training, your training is valid for 3 years. If you have not refreshed your training in 3 or more years, you are REQUIRED to take this training in order to drive any of SROM's vehicles. If you are unsure if you are past the 3 years, please contact Human Resources (email above) to enquire if you need to refresh.
Part 1A // SROM Transportation Policies & Procedures
Statistically, one of the most dangerous activities conducted at SROM is transportation via 12 or 15 passenger vans. 15 passenger vans have increased risk of accidents or injuries as noted in research and warnings issued by the National Highway Traffic Safety Administration (NHTSA). These warnings indicated that 15 passenger vans from all domestic manufacturers have a significant increased risk of roll over incidents than other vehicles under certain driving and occupancy conditions. 
As a result, SROM has developed the following policies and procedures to address the increased risks regarding 12 & 15 passenger van transportation.  
Eligibility
Who can drive a SROM vehicle? 
With Students:

Individuals at least 18 years of age (preferrably 21 years of age), with a valid US or International driver's license. possess own vehicle insurance, and who have passed or retaken SROM's van training within the past 3 years
Without Students:

Individuals at least 18 years of age with valid US or International driver's license, possess own vehicle insurance, and who have passed or retaken SROM's van training within the past 3 years
**NO other individuals may drive the SROM vans as they will not be covered under SROM's vehicle insurance policy in the case of an incident.**
Training Requirements
All SROM van drivers must complete the van driver's training course consisting of classroom time, pass the Van Training Online Quiz with 80% accuracy, and complete behind the wheel training with appropriate SROM personnel. Administration staff reserve the right to require an individual to have more training driving the SROM vans with or without the trailer. 
Safe Driving Records
A safe driving record is determined by North Wyoming Insurance Company and Progressive Car Insurance. SROM reserves the right to refuse driving priviledges to staff based upon past driving records. 
Operation Standards
The driver and ALL passengers must wear seatbelts at all times when in the vehicle. (Even if waiting in the vehicle and vehicle isn't in motion)

Do not carry more people than the number of working seatbelts in the vehicle.

Everyone must remain seated and buckled when the vehicle is in motion. 

Respect the driver's need to concentrate and see out of all vehicle windows. 

Drivers

may not

use cell phones while the vehicle is in operation. Ask another adult or co-pilot to assist with phone usage.

Load the vehicle from the

FRONT to the BACK

every time. 

Do not use the roof for storage of any purpose.

Obey all posted traffic laws. 

When carrying more than 10 passengers OR towing the trailer, reduce the operating speed by 10 mph on the interstate and other highways and 5 mph on rural, city, and unpaved roads. 

Adjust driving for conditions including weather, road surface, visibility, and the weight of the van when loaded. 

Change drivers when tired.

No driver will drive more than consecutive 8 hours at a time. 

Use discretion and good judgement. Be a defensive driver and be aware of how valuable of cargo you transport. 
Part 1b // Vehicle Safety Measures
Vehicle Safety Measures
Visual Inspection Before Use: Prior to use, drivers are responsible for making a visual inspection of the mirrors, tires, and other safety equipment of the vehicle per the SROM vehicle checklist. 
Notice: A permanent notice shall be placed in all SROM Fleet vehicles highlighting the operating standards associated with all SROM vehicles. The notice shall be highly visible to the driver of the vehicle from the driver's seat. 
Safety Equipment: All SROM vehicles  will be checked regularly for tire wear and  serviceability of all safety equipment. 
First Aid Kits: All SROM vehicles will have a First Aid Kit. 
Trauma Kits: All SROM vehicles will have a Trauma Kit.
Accident Kit:  All SROM vehicles will have an Accident Kit in the glove box.
NHTSA Placard: NHTSA Safety placards entitled "Reducing the Risk of Roller Over Crashes" will be read and gone over with drivers before operating all SROM Vehicles.
Rental Vehicles
All of the above listed operation standards apply to rental vehicles. 
It is SROM's policy that all rented vehicles MUST include insurance provided by the rental company. 
SROM Staff must  accompany groups in a SROM vehicle that is completely outfitted with the above described safety equipment and kits when rental vehicles are used, or an organization chooses to use their own vehicles. 
Training
Basic Classroom Training
Minimum of 100 Minutes of classroom time including the review of the Van Training Online Quiz, watching Training Videos, and review of SROM's policies regarding vehicle use. At which time staff can then participate in behind the wheel training which includes:
Starting the vehicle

Shifting 

Tires 

Breaking

Vehicle weight rating

Trailer hook up & loading

Changing a tire

Attaching chains

Rear wheel vs All wheel drive systems

NHTSA Recommendations

Trailer checks

Trailer tactics

Main causes of trailer accidents

Driving habits

Van driving video and trailer video
Behind the Wheel Training
Each staff member should exhibit competency in vehicle driving skills including the following:
SROM Vehicle checklist identification 

Backing vehicle using mirrors

Backing with Trailer

Turning with Trailer

Parking with Trailer

Highway Speeds

Emergency Braking (NOT Slamming!)

Lack of visibility -lane change, turns, etc.

Mirrors

Review of vehicle operating characteristics and operating vehicle under varying conditions.
Refresher
Staff who were previously authorized to drive SROM vehichles must refresh their skills every 3 years by completing the vehicle training quiz with 80% accuracy and pass the road skills test. 
Accidents
In the case of an accident, drivers should do the following:
Stop the vehicle near the accident and call the police or 911

Assess the situation and help those injured within your scope of training. DO NOT move an injured person unless there is danger of another accident. 

Turn on Flashers and use the hazard road markers to direct traffic around the accident.

Fill out the Vehicle Accident Report

Have witnesses fill out Vehicle Witness Reports 

Wait until the police are done questioning you, then notify SROM headquarters.
This information and the Vehicle Accident Report will be located in the Accident Kit of the SROM vehicle. 
Part 2A // Driving SROM Vehicles
DRIVING SROM VEHICLES
Shifting
Damage to the transmission may occur if the following precautions are not observed: 
Shift into P (or PARK) only after the vehicle as come to a complete stop.

Shift into or out of R (or REVERSE) only after the vehicle has come to a complete stop and the engine is at an idle speed.

Do not shift from REVERSE, PARK, or NEUTRAL into any forward gear when the engine is above an idle speed. 

Before shifting into any gear, make sure your foot is firmly on the brake pedal. 
Tires
Proper inflation is VERY important

Inflate to proper psi as indicated by the manufacturer's recommendation located on the inside of the Driver's side door.

Check pressure with each check out sheet

Both over inflation and under inflation can cause accidents!
To prevent tire related accidents:
Slow down during rainstorms or when roads are slushy

Slow down if road has standing water or puddles on it

Replace tires when tread wear indicators first become visible.  

Keep tires properly inflated

Maintain sufficient distance between your vehicle and the vehicle in front to avoid a collision in a sudden stop. 
Braking
Anti-lock Brakes:
Press firmly on the brakes. The pedal may push back at you in slick conditions

Do not pump anti-lock brakes as they may lose their effectiveness
Anti-Lock Brake system off:
If the anti-lock braking system is off for any reason, pump brakes to stop

Pumping will increase the distance needed to stop
Vehicle weight rating
Each vehicle has a specific weight rating for the front axle, back axle, and overall weight. This information is located on the front door pannel or the Driver's seat. For trailer weight ratings, look in the trailer itself. 
Changing a Tire
Refer to the vehicle manual for manufacture recommendations and jack placement. 
Position vehicle on firm, level survace.

Set parking brake. 

Get everyone out of the vehicle and position them a safe distance away 

Turn on emergency flashers

Find and remove spare tire from vehicle.

Block front and rear of diagonally opposite tires.

Loosen all lug nuts BEFORE jacking the vehicle up

Position Jack

Jack up the vehicle until tire is off road surface

Remove lug nuts and wheel

Install spare tire and lightly tighten lug nuts

Inspect for full contact of wheel mounting surfaces. 

Tighten lug nuts in a star pattern with moderate pressure until securely fastened

When replacing tires, use until approved tires.

NHTSA Recommendations

Please read Handout and Webpage content before moving on.

Trailers

Maintenance

Check tires for proper inflation every time (per vehicle checklist)

Replace damaged tires

Always apply proper torque when changing a tire

Pre-season: tighten lug nuts on the tires

Hooking up the Trailer

Make sure coupler on the railer does not have any missing or damaged parts

Make sure coupler and ball size match

Make sure ball is securely locked into the coupler

Make sure lights are property connected and working

Raise the front end of the trailer.

Place the coupler directly over the hitch ball then lower it in until it is seated on the hitch ball covering it completely.

Back your tow vehicle up as close as possible to the trailer. Always use an additional person to help you back up!

It is easier and safer to do this rather than to pick up and pull the trailer to the vehicle. 

Release coupler locking device.

Check under the coupling.

This is to ensure the ball clamp is below the ball and not riding on top of it.  

Latch the coupler to the hitch ball.

Make sure it is locked in place by lifting up the trailer tongue. If the coupler comes loose from the ball, unlatch it and go back to step 3. 

Swing back jack and lock into horizontal position on the trailer tongue.

Attach the safety chains.

Do this in a criss-crossed position allowing enough slack for you to make tight turns.  

Connect the trailer wiring harness.

Most of the harnesses are a direct connection, but some need an adapter. If an adapter is needed, it will be located inside the van. Need to connect and test the connection and trailer wiring system to ensure it is operating as it should (ie blinkers, brake lights, etc)

Trailering Tactics

With a trailer in tow, you're operating a vehicle combination that is longer, heavier, and sometimes wider and taller than you're used to. So you'll have to make some compensating adjustments in your normal driving practices. The following is advice in trailering tactics:

Take a "Shake-down" Cruise. Take at least one short trial run before your first trip. This will help you familiarize yourself with the trailer's operation and characteristics while driving. It will also allow you to check the trailer's lights, brakes, hitch, etc and let you know they are all working properly. 

Slow Down.  Moderate to slower driving speeds put less strain on your tow vehicles and trailer to make for safer traveling. 

Allow extra time and space between the vehicle you are operating and traffic.  You will need both when passing and stopping, especially as SROM's trailers are not equipped with a braking system. 

Check rear view mirrors. Doing this frequently will let you know that your trailer is riding properly. 

Swing Wider. You need to make wider turns at curves and corners because your trailer's wheels are generally closer to the inside of a turn than the towing vehicle. 

Pass with extra care and caution. It takes more time and distance to get around a slower vehicle and return to the correct lane when towing a trailer. When returning to the right hand lane, ensure you have allowed enough distance between the vehicle you passed and yourself. 

Watch the wind direction and speed. To avoid swaying, be prepared for sudden changes in air pressure and wind buffeting when larger vehicles pass from either direction. Slow down a bit and keep a firm hold on your steering wheel. Aim straight down your lane. 

Avoid sudden stops and starts. This can cause skidding, sliding, or jackknifing even if you are towing a trailer with brakes. Avoid quick stops while turning. Smooth gradual starts and stops also improve your gas mileage. 

Signal your intentions. Let surrounding vehicles know what you intend to do wel lin advance before you stop, turn, change lanes, or pass. 

Shift to a lower gear. A lower gear will help ease the load on the transmission and engine when going over steep hills, sand, gravel or dirt roads. If your tow vehicle has an "overdrive" gear, shifting out of overdrive to a lower gear may improve your gas mileage. This tactic is helpful going up and down steep inclines. 

Always be courteous. Make it as easy as possible for faster moving vehicles to pass you. Keep to the right of the road and prepare to slow down if passing vehicles need extra time to return to their proper lane. 

Don't Tailgate. Allow at least one car and trailer length between you and the vehicle in front of you for each 10 MPH on your speedometer. Three seconds should be the minimum distance. 

If a problem occurs, don't panic. Stay calm and cool. Say you experience a sudden bumping or fishtailing. It may indicate a flat tire. Don't slam on the brakes or slam on the accelerator in an attempt to drive out of it. Instead, come to a stop slowly as your keep driving in as straight a line as possible. If conditions permit, coast to a very slow speed and try to avoid braking, except when your wheels are straight and your trailer and tow vehicle are in line with each other. 

If your trailer begins to fishtail as you accelerate to highway speed, back off the accelerator a bit. This should stop the fishtailing. If it begins again as you increase speed, stop and check the load. It probably isn't distributed evenly from side to side or it is too far back to put sufficient load on the hitch balls. It is recommended that 10% of the trailer load be on the hitch. Redistribute the load as necessity dictates before continuing on the highway. 
Part 2B // Trailers & Driving Habits
Load the trailer so that the area in front of the axle carres more of the load. You want to put 10% of the load on the hitch.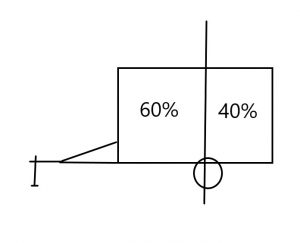 Always secure the trailer to the vehicle before unloading or loading it. Before driving, make sure the load inside the trailer is secure, as are the doors and lock on the outside of the trailer. 
Trailer Loading Safety Checklist:
Maintenance Checklist (up to date)

Hitch Ball Tight

Hitch Ball Lubricated

Hitch Secure in the Receiver

Safety Chains Crossed & Attached

Coupler Latched onto Ball

Load Distributed Correctly and Securely

Trailer Level when Hooked Up.

Trailer Lights Working Correctly

Lug Nuts Checked & Tightened

Inspect Tires for Cracks & Cuts

Tire Pressure Checks

Pin or Bolt is through the Coupler Latch

Block Tires when Loading and Unloading
The Main Causes of Trailer Accidents
Driver Error

Failure to MATCH speed to the weather and road conditions present

Trail sway due to improper loading

Failure to perform routine maintenance
NEVER DRIVE WITH PEOPLE IN THE TRAILER!
Driving Habits
Do not drive under the influence of drugs, alcohol, or prescription drugs that cause impaired driving

Drive defensively

Anticipate other driver's actions on the road

Assume they will NOT follow traffic laws

Always drive with headlights on and do not forget to turn them off upon arrival.

The vehicles SROM operates are LONG, WIDE, and HEAVY when loaded. Adjust driving, turning, and breaking habits to accommodate the vehicle and trailer.

Don't Trust the Mirrors.

Have someone get ot help you back up the vehicle or vehicle & trailer or when making tight turns. 

Be aware of the vehicle's blind spots. The biggest blind spot is directly behind the vehicle.

When in bad weather,

slow down!

It is better to be a little to slow and safe than to push the envelope. Also,

 increase the distance

between you and vehicles in front of you. Adverse weather conditions increase the distance needed for the vehicle to stop safely.

Monitor dashboard gauges, sounds, and smells. If something goes wrong or doesn't feel right, check it out immediately. 
On dirt and rural roads:
Slow Down!!!! 35 mph is SROM's Dirt Road Speed Limit. Do not exceed this ever!

Spot before blind corners and honk if needed to warn other vehicles coming around the corner.

Do not get the van stuck. Turn only when there is room; do not take impassable 4×4 roads

Be aware of unstable road shoulders. Don't get the van stuck off the side of the road or roll it!

DO NOT USE CELL PHONES WHEN DRIVING!

It is SROM's policy that the driver, should not at any time, be using the cell phone for making calls or playing music. The driver should always ask their co-pilot or other adult for help with either of these tasks. 

Change drivers when tired. No individual will drive longer than 8 hours in 24 hrs. If you are solo driving, pull off at a rest stop and take a break.

Tired drivers cause accidents! 

In 2017, there were 91,000 motor vehicle crashes involving drowsy drivers according to the

NHTSA
Required VIDEOs
The videos below will help you with the test and in preparing you for the
in-person practical vehicle training skills.
Click on button below to take SROM's Vehicle Training Course Test. You must recieve an 80% or greater to pass. You are allowed to use all the given resources to help assist you in answering the question on the test.
You need to take this test prior to the scheduled day of the practical portion of your training. If you receive a lower score, you may re-take the test on the day of the practicals prior to starting the driving section.
QUESTIONS?
We would be happy to answer any questions you have. Ask away below or call (307) 755-0642.