By: Emily Cable
Do you love Cheesy Goodness, but you're tired of messy backcountry cleanups? Are you a pro-tips collector and connoisseur? Does the thought of a squeaky clean pot bring joy to your heart?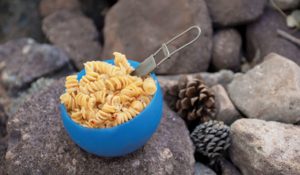 Well then, let me introduce you to [pause for dramatic effect] "Mac-in-a-bag"!!!
Those of us who enjoy a hearty Mac and Cheese dinner in the backcountry know how this delightful meal can turn into a laborious clean-up, involving scraping dried cheese and noodle remnants out of the pot. Despite my best cleaning efforts, I always seem to encounter little cheese-floaty remanence in my hot drink afterwards.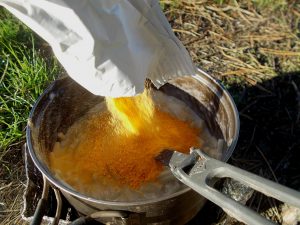 A student of mine showed me the Mac-in-a-Bag technique last summer in Rocky Mountain National Park during our Leave No Trace Master Educator Course. I thought, how appropriate, not only does this method save time but it also allows for a clean-up that minimizes grey water.
Without further ado, the "recipe" if you will…
Equipment:
        

Knife to slice butter and cheese

        

Camp bowl/plate

        

Stove and fuel

        

Pot with lid

        

Spoon or fork

        

Mug and favorite drink fixings for celebratory hot drinks!
Ingredients:
Fresh wilderness water. If you're in an area with silty water, try filtering it a bit with a bandanna or another method to remove some grit.  

Cheese, thinly sliced or shredded. (Smoked Gouda and Pepper Jack are personal faves)

Favorite Pasta

repackaged into a reusable plastic bag like a U-Line or Ziplock.

The bag is key. Without it you cannot make Mac-in-a-Bag.

Do check the bag for holes. Pin pricks are okay but bigger ones may cause problems. *Note: Thin ziplocks could melt. You want to use a thick U-line or Freezer style ziplock for this technique.*

Butter cut into small cubes

Spices (I go for salt, pepper and garlic as my base; and may add cilantro and basil)

EXTRAS

(optional)

–

fresh onion, summer sausage, fresh zucchini.
Step 1) Bring your water to a rolling boil. It's very important that it has come to a full boil to sterilize it, making it safe to drink and cook with. Water boils faster with the lid on.
Step 2) Pour in the pasta and give it a stir to break up any clumps. Stirring occasionally.
Step 3) Now that the pasta bag is empty you can toss your cheese, butter, spices and any extras into it.
Step 4) Once the noodles are cooked to your desired softness, carefully strain the water into another container (e.g. your bowl, mug or another pot) to be used again later. Then dump the noodles into the prepared bag as ASAP. For this step it is very helpful to have a buddy helping hold the bag open as you pour the noodles in.
Step 5) Twist or seal the top of the bag then massage the cheese and noodles until everything is mixed together. Remember, these noodles are HOT! Use something (gloves, bandana, jacket) to protect your fingers and hands as you mix the bag contents.
Step 6) Serve and enjoy all that Cheesy Goodness of protein, fat and carbs!
Since your pot's already clean you might as well fire up the stove and reheat that water for some after dinner hot drinks!
Always pack out the cheesy plastic bag along with any leftover food to keep the backcountry clean and wild. Thank you!
Note: Please do not pour your noodle water straight onto the ground. If you don't want to drink it please strain out all food particles and allow to cool before widely broadcasting away from camp and water sources. This will minimize damage to plants and avoid feeding wildlife. If you're in bear country you should just drink the water to avoid spreading food smells around your camp.