Melita Zuck is one of our 40/40 instructors and an all around amazing woman after God's own heart! When not instructing for SROM, Melita lives in Lancaster, Pennsylvania and does a lot of fun expedition adventures all over the world. Melita first started instructing for SROM in 2015 and has been a wilderness missionary for the past 3 years. And each year, she is the hands and feet of Jesus to these students in the wilderness. And one of Melita's trademark "must haves" in the wilderness is a skirt. Melita was kind enough to write to us from the field of this year's 40/40 about the 20 reasons why a skirt is a "must have" for wilderness expedition travel!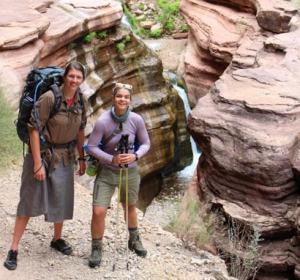 20 Reasons Why a Skirt is Essential in the Backcountry
By: Melita Zuck
The user must consider which applications are most desirable for her usage. For example, you will not want to use your skirt to hold food right after drying your feet from a river crossing!  There are also many circumstances that I do not use a skirt, such as when I need to wear a harness for rock climbing or mountaineering. These are some of the ways that I have used my skirt in the back country to make it an effective tool for the wilderness and one of my top essentials for any expedition.
The following suggestions have been implemented using a thin, quick dry fabric to create an expedition worthy skirt. The skirt I use goes to just below my knees and is wide enough to not restrict movement. I use a 7″ side zipper and a thin waist band with a small button.
Apron
Useful to carry objects or hold your portion of lunch or GORP
Keeps pants or shorts cleaner and protects them from wear
No tissue? No problem! Use your skirt!
Cleaning off or wiping down anything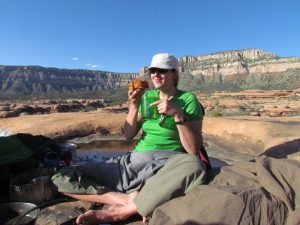 Privacy
 Changing out of underwear or pants? No need to find a private spot when you have a skirt!
Less privacy is needed for using the bathroom if management is good
Wear during bathing or a solo around the waist or over the bust as a dress
Shield
Keeps a light amount of precipitation off your pants or shorts keeping you warmer and dryer
When kicking in steps, provides a shield so snow doesn't hit your feet

Layer
Keeps wearer warmer over the hips and thighs
Can flip it above your waist over your back for an improvised shawl
Towel
Dry feet and legs after a river crossing
Dry body and hair after bathing
Other
Extremely easy to wash with limited resources
Tie a knot in the waist and it becomes a carrying sack
Light weight sleeping layer – a personal favorite when it's clean!
Could easily be torn into bandage strips in an emergency situation
Follows some religions standard's of modesty
Follows SROM's Rule #1 (To look Good!) without fail!