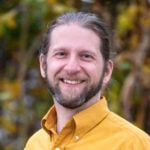 Jacob Chmieloweic
Information & Technology Manager
Jacob grew up in a small town in northern Wisconsin where hunting small game and building forts are common pastimes for young boys. The North Woods inspired an appreciation for wild places that continued into high school and college, where he began rock climbing and mountaineering. It was also during this time that Jacob met Christ and began the journey that led to SROM. In 2004 Jacob began volunteering at a local youth group and continued to serve there until moving to Wyoming and joining SROM. Jacob believes in the life changing power of the gospel as well as the special role wilderness plays in spiritual development. These convictions brought him to SROM as summer staff in 2009 and led him to join full time staff in 2012. Jacob works at SROM because: "There are desperate needs all around the world for men and women who will lay their lives down to serve God and one another. I want to be a part of that." Jacob is passionate about making other people awesome in Christ, mountaineering/alpine climbing, photography, film, music, and learning.
Partnership
I have two kinds of financial needs:
The first, and foremost, is ongoing regular support. While I've grown accustom to living with modest means money is generally tight. Last year my total income breaks down to about $7/hr for regular time, $10.50/hr for overtime. This year I would like to increase my support to reach $10/hr. To do this I need 7 new supporters at $100/month or 14 new supporters at $50/month. Without this financial support my ability to serve at SROM is precarious and an unexpected expense could make it impossible for me to continue here. These monthly gifts are vital to sustainability in ministry. Join me in building the Christian leaders of the future.
The second need is for one-time gifts to cover specific needs beyond my day to day needs. This gives you the opportunity to be a blessing by providing for a very specific need. My current one time needs are:
Wool Base Layers:

 

While expensive, wool is proving to be the most suitable material for these garments. To replace my aging synthetic shirts with durable wool shirts:

 

$150
Miscellaneous Items:

 

Headlamp batteries, sunscreen, Platypus water bottles, backpacking socks, etc. Cost:

 

$100
Miscellaneous Gear Replacement:

 

Gear like gaiters, pants, and climbing shoes wear out and need replacement. Cost:

 

$250
AMGA SPI Class:

 

This is the beginning of the path toward becoming an AMGA Guide. As more of our staff obtains this widely recognized certification it will open doors for us as a ministry. In addition to acquiring the certification I will learn new ways to efficiently and safely guide our students in rock climbing according to international guidelines. Course and assessment tuition:

 

$900
Winter Gear:

 

At SROM we are expanding outside of our normal summer season. While not urgent this requires many new items that are rather expensive. This includes a winter sleeping bag, winter clothing, and snow travel.

 

$1300 – Some contributions have been made toward this need!
Thank you for your contribution!!!
Please send me a note at JacobC@srom.org when you join my support team or make a one-time gift toward one of the above needs. This will help me keep this page up-to-date. Do not hesitate to call me at 920-609-1901 with questions.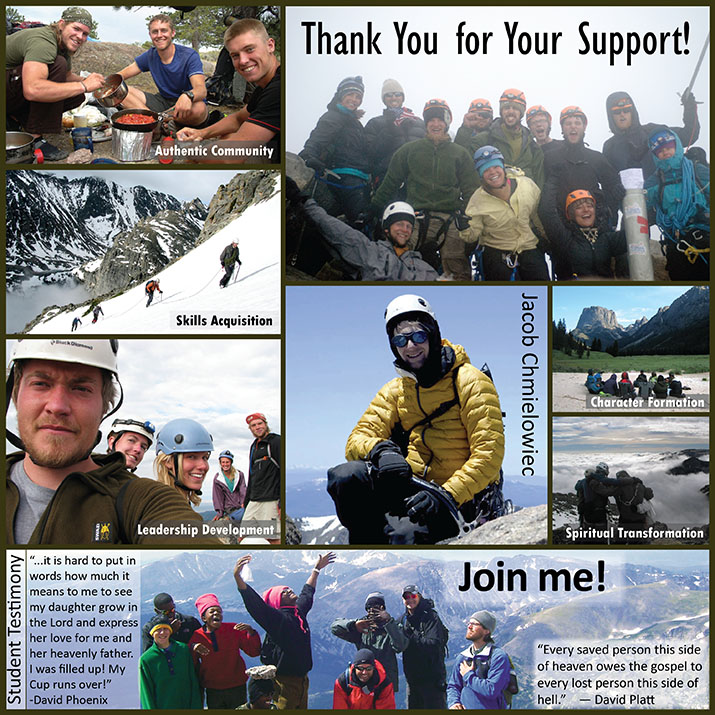 Join the team by donating online with an electronic check (ACH) or by card.
Mail a Check:
SROM
Attn: Jacob Chmielowiec
617 Plaza Ct.
Laramie, WY 82072
Please make checks directly out to:
Solid Rock Outdoor Ministries