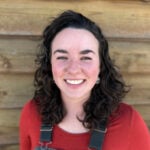 Hope Lloyd
Customer Support Specialist
Being outside has had a significant impact on Hope's life. Growing up Hope spent most of her time outside where she would explore and let her imagination run wild. Because Hope was home-schooled her family did a lot of roadtrips to National Parks as well as traveling internationally. As she grew and life presented more challenges and hardships the outdoors offered Hope a place of solace. Often when life became too loud and her connection with Jesus was estranged she would go to nature to slow down, be still, and find communion with God. This appreciation for creation and understanding of its intrinsic value to her relationship with Jesus drew Hope to pursue a career in something that would allow her to be outside for the rest of her days on earth. 
In 2021 Hope graduated with a bachelor's in Outdoor Leadership from Youn Harris College in Georgia. Through this degree Hope discovered a lot about herself, how she relates to others, and how to steward and lead in the outdoors. Hope transitoned out of her time in college desiring to build deep and meaningful relationships with those she'd serve and also wanting to use the outdoors to help people work through difficult life experiences. A random late night Google search was Hope's first introduction to SROM. She couldn't believe there was a ministry that offered wilderness adventures! In the summer of 2021 Hope worked as Course Support Assistant for SROM. At the end of the summer Hope recieved the opportunity to participate in the 7/7 All Womens course which was her first extended backpacking trip. The experience for her was revolutionary to her understanding of wilderness and her connection with Jesus. 
In the spring of 2022 Hope decided to thru-hike the Appalachian Trail. Influenced by her SROM course and her new found passion for backpacking she ventured out on one of the wildest journeys of her life. After the trail as Hope was looking forward to what was next she kept hearing SROM being whispered in her mind and heart. In the summer of 2023 Hope returned as course support and at the end of the summer felt very strongly the Lord leading her into full-time ministry with SROM. Hope is so excited to begin this new chapter of her life and see what God is going to do in and through her while serving with SROM in helping people connect with Jesus in the wilderness.
Join the team by donating online with an electronic check (ACH) or credit card.
Mail a Check:
SROM
Attn: Hope Lloyd
617 Plaza Ct.
Laramie, WY 82072
Please make checks directly out to:
Solid Rock Outdoor Ministries