Ready to come hang and reconnect?
Join fellow SROM alumni for a week of rock climbing and deep fellowship in one of the country's premier climbing destinations, Red Rock Canyon National Conservation Area. Our motto will be:
CLIMB HARD. PLAY HARD. GO DEEP.
 Our instructors will work with you and your goals to push you as hard or as little as you would like. The evenings will be times of fun, fellowship and discussion that deepens your connection with God, others, and yourself – all the things you have come to love and expect from a SROM course.
DETAILS
Course details at a glance.
October 9-15, 2022
Arrive: 1 pm | Depart: 8 am
This course fee is as small as possible. Flights into Vegas are usually cheap, and food/camping costs are included in the tuition (as well as most of the gear).
START & END BASE
Las Vegas Airport
Essential Eligibility
Skill Level: Alumni Only
You must be a SROM Alumni with a desire to learn and grow. We will teach you the skills of rock climbing and Desert living, including the essential backcountry skills of gourmet cooking and using the bathroom in the wilderness.
Physical Ability:
Carry a backpack 40-60% of your body weight, hiking 2-4 miles a day
Hike and camp at elevations of 8,000 ft. and up
Long days, often up at 6 am and in bed at 9 pm
We understand the physical requirements may be overwhelming, but we find most people can train and do great. We provide a training plan to help you be physically prepared for your trip so you can succeed and have the most fun.
Itinerary
An overview of what to expect on course.
ARRIVAL
Your instructors will pick you up from the Las Vegas Airport at 1:00 PM.
You will be introduced to your instructors and teammates as well as go through an orientation which includes: Gear checking/ distribution, packing school
Climbing
A typical day on course looks something like this:
6:00 AM wake up and cook breakfast
8:30 AM Gear packed for the crag.
Eat lunch while climbing
Afternoon Head back to base camp
Afternoon (1-2 hours) Time Alone with God (TAG)
5:00 PM Make dinner
7:00 PM Evening Devotional/ teaching
10:00 PM Head to bed
Departure
Upon returning to the front country your team will de-issue group gear and personal gear before showering.  You will head out on the town for a celebration meal at a local restaurant with your team and instructors. (This meal is not covered by SROM.)
Your course officially ends when your instructors drop you off the following morning back at Las Vegas Airport.
PHOTOS & VIDEO
Get a glimpse into the experience.
Testimonies of Transformation
Hear what others experienced.
The connections made were very powerful with all members of the team.  The space created for one on one with the Lord was awesome. I loved the solo and time alone with God. I realized and have a better understanding of the importance of community and what it really feels like to be part of a supportive community because of my SROM experience with this course and other SROM courses.
Bring a friend and you'll both save $50!
What if SROM has to cancel the course?
You will receive a full refund if we need to cancel the course.
Should I get travel insurance?
Yes, we highly recommend getting travel insurance and checking to see if it covers Covid-19 or not.
Not only is travel insurance helpful for a potential change in plans or a course closure, some travel insurance plans will also cover if you needed to be evacuated from a course for a medical emergency.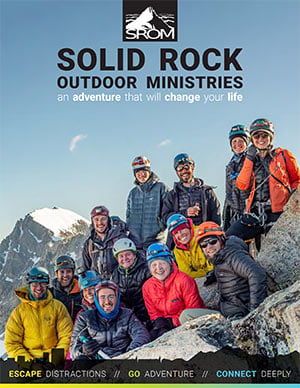 What is Wilderness Ministry?
Get a FREE mailed catalog to learn about our philosophy of wilderness ministry that we have developed over 35+ years. Topics include:
Why Wilderness?
Creation Deficit Disorder
The Reward of Risk
Leadership Development
Philosophy of Education
and much more!
It won't be easy, but it will be worth it.